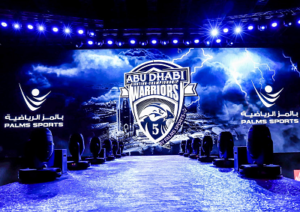 Britain's 'Strongest Man' and UFC veteran, Oli Thompson and Team Nogueira Dubai's Roman Wehbe met in the cage at Abu Dhabi Warriors® 5 to determine who is the best 205-pound fighter of the night on Saturday at Mubadala Arena in Abu Dhabi. After two hard rounds, Oli Thompson defeated Roman Wehbe in the main event of the night via TKO.
Oli Thompson (18-6-0, 8 KOs) and Roman Wehbe (7-6-0, 4 KOs) fought to an exciting TKO win in the main event of Abu Dhabi Warriors®5 in front of a packed Mubadala Arena in Abu Dhabi.
"Thank you Abu Dhabi for this great evening. It was a tough fight; I really enjoyed every minute of it. Wehbe was a tough opponent, so congratulations to him and his team. Thank you to the fans in Abu Dhabi and the management of Abu Dhabi Warriors for this opportunity. I look forward to be back competing in Abu Dhabi Warriors again," said Oli Thompson
In the co-main event, Britain's Chi Lewis-Parry (6-0-1, 4 KOs) defeated Ibrahim El Sawi (5-5-0, 4 KOs) of Egypt by TKO in the second round. It was an electric build up to this fight, as both fighter traded words and pushes in the pre-fight press conference, the fight did not disappoint as both fighters went toe-toe from the opening bell.
"I knew I would end this fight early as Ibrahim doesn't have any skills really. This is my second time fighting in the UAE and the crowd was really loud." Said Chi Lewis-Parry. "The sport of MMA is growing in regions like Middle East and Asia and I can tell the difference from 4 years ago when I fought in Dubai. I don't know what's next yet for me, obviously I will take a short break and then we will see what options are on the table."
"Thank you Abu Dhabi Warriors for the opportunity and thank you to all the MMA fans in Abu Dhabi for this great evening and for supporting me." Said Lewis-Parry
Emirati featherweight Ahmad Al Darmaki (0-4-0, 0 KOs) received the loudest cheer from his loyal Abu Dhabi fans in his rematch againstNoureldin Isam (2-4-0, 1 KOs) of Sudan. It was a night to remember as the Emirati won his first ever MMA bout via a TKO in the first round.
Ahmad Al Darmaki made his walk to the ring, to a traditional Emirati song, with the UAE flag wrapped around his shoulders. The crowd was on its feet to see the local hero back in action after 2 years.
Al Darmaki began the first round with low leg kicks and managing the distance and his rhythm. Noureldin Isam attempted a take down, which was defended well by Al Darmaki, who turned it around by taking the mount and finishing his opponent with a barrage of ground and pound strikes to finish off after 1 minute into the first round.
"It was an excellent fight. I followed all of the instructions from my corner and it was a deserved win," Al Darmaki said.  "I think in the past I may have not followed the game plans that I worked with my coaches in camp, but today there was no margin for error and I am very happy for this win.
"I knew everything was against me and to win I had to be at my best. I hope I made my country proud, I been a warrior for a long time, and to win my first MMA bout, it is a great feeling. My journey in Abu Dhabi Warriors will continue. See you all very soon" Said Al Darmaki
Commenting on the event, Mr. Fouad Darwish, Managing Director of Palms Sports® said, "This was our (Palms Sports) first promotion in the sport of mixed martial arts, and I am very pleased with every aspect of the event. It was a packed venue and the crowd really enjoyed every fight on the card,"
"Our strategic plans for the next events are already in motion and we will make announcements in the coming weeks. The response from existing and potential partners have really been positive, especially from the international TV partners." Said Mr. Fouad Darwish
If you missed the event, it will be broadcasted on delayed on the following networks:Abu Dhabi Sports in the MENA region, EB-TV worldwide live stream, Airtel TV, Idea Movies & TV, Jio TV and Triple Play IPTV in India, Eleven Sports in Taiwan, RCTI and MyRepublik in Indonesia and Kwese and Azam Sports in Africa. The event will also be aired on delayed basis on FOX Sports in Asia, Eleven Sports in North America, Fight Network in Canada & Europe, Sports Max in the Caribbean, Fight Sports in North America, Caribbean, Europe, Nordic and Japan, Planet Sport in Hungary, Astro in Malaysia, Dubai Sports and Sharjah Sports in MENA.
RESULTS 
MAIN CARD
Oli Thompson vs Roman Wehbe [Main Event]
Oli Thompson wins by TKO in the second round.
Chi Lewis-Parry vs Ibrahim El Sawi [Co-Main Event]
Chi Lewis-Parry wins by TKO in the second round.
Flavio Serafin vs Ahmed Labban
Ahmed Labban wins by TKO in the first round.
Ezzidine Derebane vs Rolando Dy
Rolando Dy wins knock out in the first round.
Isaac Pimentel vs Abdel Fatah
Isaac Pimentel wins by triangle lock submission in the first round.
UNDERCARD
Daniel Barez vs Adamson Torbiso
Daniel Barez wins by submission in the first round.
Leandro Martins vs Youssef Wehbe
Leonardo Martins wins by unanimous decision after 3 rounds.
Christofer Silva vs Mohammed Al Khatib
Christofer Silva wins by unanimous decision after 3 rounds.
Ahmad Al Darmaki vs Noureldin Isam
Ahmad Al Darmaki wins via TKO in the second round.
Jaures Dea vs Mohammad Basem
Jaures Dea wins by unanimous decision after 3 dominant rounds.
Alexandru Chitoran vs Mahmoud Fawaz 
Alexandru Chitoran wins by tap out in the second, after heavy ground and pound.
Redazione
27 Gennaio 2018