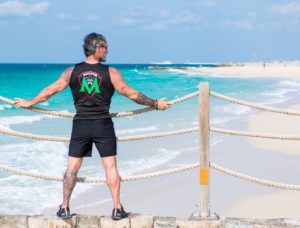 Magnum Fitness Beach Dubai®, Kite Beach's newest outdoor lifestyle, fitness gym announced today the soft opening celebration to be held on  March 9th from 10am to 9pm in Dubai. They will offer free Muay Thai classes (from 11am to 12pm) , and on the following day March 10th there will be the official opening starting at 5pm with a selection of healthy refreshments and a complementary Magnum Fitness souvenir offered to all in attendance. 
The gym is the new project launched by the very successful fighting promotion MAGNUM FC. They are bringing their knowledge and experience of sport to the fitness and healthy lifestyle arena, and what better place to do that than on the beautiful beaches of Dubai. 
The new gym will offer a variety of  health and fitness options for the local community. With  state-of-the-art Technogym equipment,  members are guaranteed a maximum benefit workout. And unlike other "typical" gym experiences, a offer a wide range of fun activities and classes will be available, including aqua gym, mixed martial arts training, cross–fit training, as well as nutritional and dietary guidance. 
Ms. Patrizia Marin, co-founder of the project with Sandra Klebanoff, said: "We are very excited to open Magnum Fitness Beach Dubai at Kite Beach, and to offer local residents an opportunity to work out everyday on the highest quality equipment, on one of the most beautiful beaches in the world with the incredible backdrop view of the Burj Al Arab. And during our launch  we are proud to offer free training  to community members with Italian movie actor and stuntman Bruno Verdirosi," said Patrizia Marin.
Bruno Verdirosi who is well known for his stunts in Hollywood blockbusters such as Quantom of Solace in the James Bond 007 movie, The Tourist with Johnny Depp, Equilibrium with Christian Bale and John Wick with Keanu Reeves, will be training the members of the community, along with other instructors, on the launch, and from March 9th to April 30th (before Kite Beach shuts down for renovations).
"Everyone in the community of Dubai is welcome to  join us at Kite Beach. …"I love Dubai and to be able to train and work out in this beautiful beach, is simply a win-win situation. Get fit with us, and at the same time enjoy the lifestyle and beauty of Dubai", said Italian movie actor and stuntman Bruno Verdirosi.
With the new season beginning in October, Magnum Fitness Beach has lined up an exciting, interactive program of fitness, health and fun for all its members. In partnership with other sporting companies, a wide, diverse range of activities will be available to all members.
di Massimiliano Baggio
9 Marzo 2018