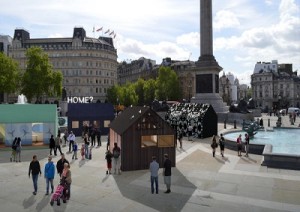 Dal 13 al 21 settembre 2014 si terrà l'appuntamento con il design internazionale più atteso dell'anno: il London Design Festival. Quest'anno il focus sarà sull'arredamento e la casa, "A place called home" è infatti il titolo del Festival e innumerevoli saranno gli eventi, le conferenze e le installazioni da ammirare in tutta la città. In particolare, il London Design Festival si dividerà in 6 distretti londinesi: Brompton, Chelsea, Clerkenwell, Islington, Queens Park and Shoreditch, con interessanti kermesse anche al Victoria and Albert Museum, rinnovato recentemente, dove si trova l'installazione sospesa sull'acqua "Crest", progettata da Zaha Hadid, la designer irachena conosciuta ovunque, creatrice del Maxxi di Roma e di altre opere in Italia.
Giunto alla 12esima edizione, il London Design Festival vedrà coinvolti tutti i nomi internazionali che contano nel settore del design: Philippe Starck con la sua nuova collezione di ceramiche alla Fiera del 100% design,  Jeremy Wintrebert con «Glass» presso la Galleria Fumi in Hoxton Square; la mostra Chandeliers alla David Gill Galleries a King Street, solo per citarne alcuni.
L'evento decisamente più importante del London Design Festival è il Landmark Project, una vetrina allestita a Trafalgar Square in una sorta di "progetti di riferimento sul territorio" per i designer che decidono di partecipare al progetto, i quali daranno la loro libera interpretazione sul tema della casa.
In contemporanea al London Design Festival, dal 15 al 19 settembre 2014, si svolgerà il Global Design Forum, in cui si discuterà il ruolo del design e gli artisti che vi operano per un futuro eco sostenibile, che sia rispettoso dell'ambiente, degli spazi architettonici e delle città.
Roma, 29 agosto 2014
di Valentino Vilone