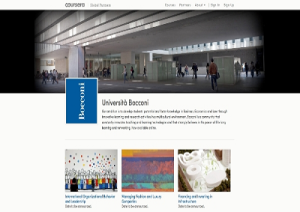 C'è fame di professionalità nella moda e non solo in Italia. Sono infatti ben 20mila gli iscritti, da 157 Paesi, al corso di moda dell'Università Bocconi di Milano di ''Managing Fashion and Luxury Companies'' che parte domani sulla piattaforma Coursera, promosso da Ateneo e Sda.
Si tratta di un Mooc, ovvero "Massive open online corse". Il primo è stato lanciato lo scorso giugno, in "Financing and Investing in Infrastructure", e ha avuto, un adesione superiore alla media del sito di formazione online.
Ora, con Sda Bocconi School of Management coinvolta nel progetto, un nuovo Mooc è sulla rampa di lancio: il corso di Erica Corbellini e Stefania Saviolo  (#mafash14 su Twitter) inizia il 3 ottobre.
È il primo corso di moda ad essere ospitato da Coursera e può essere seguito gratuitamente da chiunque, indipendentemente da età, sesso, classe, istruzione. Finora si sono iscritte 20.000 persone che vivono in 157 Paesi diversi. Per la maggior parte (18%) si tratta di statunitensi, il 53% è di sesso femminile, il 44% ha un'età compresa tra i 20 e i 29 anni.
Gli "studenti" digitali seguiranno le lezioni online per cinque settimane, discuteranno i contenuti su un forum, lavoreranno tre o quattro ore alla settimana. Per ottenere un certificato di frequenza dovranno superare un test basato su quiz e P2P, vale a dire un esercizio che verrà valutato da altri utenti. I video, in lingua inglese con sottotitoli in inglese, sono il cuore del Mooc.
"È stata una sfida", ha spiegato Stefania Saviolo, responsabile del Luxury & Fashion Knowledge Center di Sda Bocconi. "Prima delle riprese abbiamo dovuto riprogettare i nostri obiettivi formativi. L'attenzione degli spettatori online scema dopo cinque minuti. Per tenerla viva siamo state focalizzate, precise, concise. Abbiamo scelto case-study familiari a persone provenienti da tutto il mondo".
Un Mooc non è un programma di e-learning ordinario. Gli studenti dovranno rispondere a domande e poll in tempo reale e interagire con insegnanti e colleghi. La conoscenza è alimentata dal confronto e Saviolo si aspetta che gli studenti diano un contributo significativo al corso. C'è anche un risvolto etico: esso mira a fornire una conoscenza approfondita del business globale della moda e del lusso.
"È indirizzato a chiunque sia interessato alla moda come business: manager, studenti di economia e di moda, consumatori", ha detto Erica Corbellini, direttore del Master in Fashion, Experience & Design Management della Bocconi. "Sarebbe riduttivo pensare alla moda come artigianato. Gli studenti impareranno che ha una stringente logica di business e scopriranno che i suoi brand sono pionieri nel campo dei nuovi media e dei social network".
2 ottobre 2014 
di Patrizia Tonin