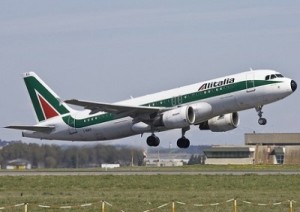 Per il secondo anno consecutivo l'Alitalia è fra i "Superbrands" italiani. Il riconoscimento che premia i migliori brand presenti sui mercati internazionali è stato attribuito alla compagnia aerea italiana nel corso di una cerimonia all'Auditorium di Radio Italia a Milano. Il certificato di eccellenza (seal) viene attribuito sulla base del giudizio del "Superbrands Council", composto da esperti e professionisti del settore che selezionano le migliori marche nelle diverse categorie, valutando le aziende sulla base di tre criteri: qualità, che caratterizza l'esclusività dell'offerta e del modo di posizionarsi sul mercato; affidabilità, che assicura nel tempo e la capacità di mantenere le promesse fatte alla propria clientela; carattere distintivo, che garantisce la capacità di distinguersi dai concorrenti e di essere sempre un passo avanti agli altri. Conquistare lo status di "Superbrands" significa automaticamente appartenere a un club di marchi eccellenti che rappresentano un punto di riferimento per milioni di clienti e consumatori. Per Alitalia il premio rappresenta anche un riconoscimento al lavoro di riposizionamento del marchio portato avanti dalla compagnia nell'ultimo anno.
"Grazie a questo riconoscimento, l'orgoglio che proviamo è ancora più tangibile. La nostra firma ha cominciato un nuovo viaggio: la nostra nuova identità ci permette di portare lo stile unico e senza tempo di Alitalia in tutto quello che facciamo in giro per il mondo. Il marchio Alitalia è oggi più potente che mai, e guarda al futuro con vigore e ottimismo", ha detto Marco Martinasso, vice presidente marketing di Alitalia, ritirando il premio.
Il premio "Superbrands" è nato per valorizzare le marche più prestigiose a livello internazionale e si pone l'obiettivo di identificare e celebrare la storia delle aziende, la propria reputazione, i valori percepiti dai consumatori e dai soggetti interessati e l'esperienza vissuta dai clienti.
Protagonisti dell'edizione 2016 sono state 24 grandi marche che hanno raggiunto valori di eccellenza, guadagnandosi il prestigioso appellativo di "Superbrands 2016".
Alitalia nel 2015 ha avviato un percorso di rinnovamento della propria immagine e del proprio distintivo: si è cominciato con la nuova livrea che ora caratterizza e rende unica la flotta della Compagnia; si è proseguito con gli eleganti interni degli aerei, caratterizzati dall'inconfondibile gusto italiano e con le nuove iconiche divise del personale di volo e di terra; ultimo tassello in ordine di tempo in questo percorso sono state le nuove lounge basate sull'innovativo concetto "Casa Alitalia", che vuole portare in aeroporto l'esperienza di comfort ed eleganza di una vera casa italiana.
L'Alitalia Società Aerea Italiana (alitalia.com) è la principale compagnia aerea del nostro Paese e ha avviato le operazioni all'inizio del 2015 dopo aver rilevato le attività operative di Alitalia – Compagnia Aerea Italiana, poi rinominata CAI. CAI detiene una quota di controllo in Alitalia pari al 51% e il rimanente 49% delle azioni è di proprietà di Etihad Airways, compagnia di bandiera degli Emirati Arabi Uniti (Airline of the Year 2016 per la prestigiosa rivista americana di aviazione Air Transport World). Nella stagione estiva 2016 Alitalia vola verso 97 destinazioni, di cui 27 in Italia e 70 nel resto del mondo, per un totale di oltre 4.400 voli settimanali. Alitalia vanta una delle flotte più moderne ed efficienti al mondo. Alitalia è membro dell'alleanza SkyTeam e fa parte, insieme ad Air France-KLM e a Delta Air Lines, della Joint Venture Transatlantica. Inoltre Alitalia collabora con gli altri Etihad Airways Partner – ossia airberlin, Air Serbia, Air Seychelles, Etihad Airways, Etihad Regional operata da Darwin Airline, Jet Airways e NIKI – per offrire ai clienti una scelta più ampia grazie a network e orari migliorati e a maggiori vantaggi per i frequent flyer.
di Patrizia Marin
27 giugno 2016