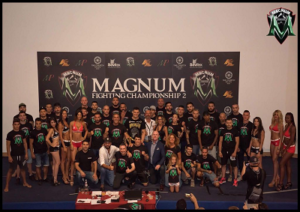 The Church Palace ospita il 22 luglio Magnum FC 2, in via Aurelia 481, a partire dalle 17:00 l'Undercard, con 9 match di K1, Muay Thai e Sanda. Il clou dalle ore 21 con i match di MMA.
Una fight card che vede grandi fighter professionisti di tutto il mondo sfidarsi a cielo aperto, nella magia di una sera capitolina di mezza estate. Ieri al The Church Village, oramai ribattezzato Magnum FC Fighters Village, la tradizionale cerimonia del peso, officiata da Grant Waterman, giudice ufficiale UFC, alla presenza di Max Baggio, anche presidente Kombat League e Patrizia Marin, CEO di Magnum FC. Max e Patrizia sono entusiasti di questo grande evento e stanno preparando una nuova stagione di sport incredibile, con anche il debutto internazionale di questa Promotion Made in Italy: "E' davvero il nostro sogno di una notte di mezza estate che si compie. I sogni se li accarezzi possono diventare realtà".
Un momento di incontro di tutti i fighters, con i coach, i giornalisti, gli amici e gli appassionati che anche in Italia sono sempre più numerosi. Fighters di primo rango "face to face" pronti alla sfida odierna.
I fighters dell'Undercard sono: Alessio Iafrate vs Gabriele Zoroddu, Jacopo Tarantino vs Ivan Naccari, Claudio Amorus vs Mitat Isteri; Edoardo Lorenzetti vs Victor Gangan; Andrea Tavoletta vs Morris Masci; Ion The real Deal vs Diego Cravagni; Giancarlo Grasselli vs Dasic Milan; Samuel Capone vs Antonio Costagliola; Marco Manetti vs Danilo Coda.
La main card di MMA vede la sfida tutta al femminile tra Micol di Segni vs Anastasjia Gornostaeva e poi Carlo Pedersoli vs Pavel Pinzul; Mauro Cerilli vs Lucasz Parobiec; Fabio Russo vs Franco De Martiis; Fabio Scaravilli vs Orlando D'Ambrosio; Ionut-Mihaita Radu vs Diego Nunes, già fighter per UFC; Petru Dinca vs Yari Orsini; Danilo Pastanella vs Marco Bianchi; Andrei Dinca vs Claudio Iancu.
Grant Waterman ha definito Magnum FC la più importante Promotion italiana di sport da combattimento, nata dalla decennale esperienza di Max Baggio (Kombat League) nelle discipline sportive da contatto e di Patrizia Marin (Marco Polo Experience) nel marketing e brand awarness. Le mix martial arts MMA sono discipline di gran moda, quarto sport in USA grazie a UFC ed al mito crescente di Conor McGregor che sfiderà il 26 agosto a Las Vegas la leggenda della boxe Floyd Mywheater. Queste discipline sono seguitissime in Asia e sempre più in Europa.
In Italia, tra praticanti e simpatizzanti, si contano più di 6 milioni di appassionati.
di Massimiliano Baggio
22 luglio 2017