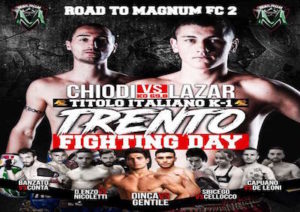 Continuano i Road to Magnum FC 2, eventi nazionali validi per selezionare i migliori fighters italiani che si sfideranno il prossimo 22 luglio al The Church Palace a Roma durante la seconda edizione di Magnum FC, promotion internazionale che ha visto il suo grande debutto l'11 Maro a Roma con più di cinquanta atleti, in rappresentanza di venti nazioni per 4 discipline interessate: Mixed Martial Arts (MMA), K1 (kickboxing con ginocchiate), Muay Thai e Sanda (o boxe cinese).
Dopo Strong Hill Fight Night dell'8 aprile al Palasport di Monteforte D'Alpone (Verona) e Power of Muay Thai 5 al Palamartino di Bari, la prossima tappa del Road to Magnum FC 2 sarà Trento Fighting Day, che si svolgerà al Centro Sportivo Trento Nord in Via 4 Novembre 23/4 a Gardolo (Trento), sabato 6 maggio 2017, dalle ore 20:00 alle 23:00, con 5 incontri di K1 pro con atleti professionisti e altri 5 di K1 dilettanti.
La tappa trentina, organizzata dalla Trento Fight Academy, da Fight Team Miko e da Team Chango Limonta, ospiterà sul ring fighter di punta nel panorama italiano come  Lazar Vasile, Francesco Chiodi, Petru Dinca e Yuri Gentile.
Match clou della serata Trento Fighting Day è quello nella specialità K1 5×3 tra Vasile Lazarz e Francesco Chiodi, che attribuirà al vincitore il Titolo Italiano Kombat League K1-70 Kg e il fight pass per  MAGNUM FC 2.
Sul ring vedremo inoltre Federico Banzato contro Franco Conta, Diego Enzo contro Luca Nicoletti, Petru Dinca che sfida Yuri Gentile, la sfida tra Eddj Capuano e Alberto De Leoni, Eugenio Vukic contro Osmani Valon, Filippo Manfrida contro Nicolas D'Elia e l'incontro tra Giorgio Rasera e Giacomo Casarin. E una sfida tutta al femminile con l'incontro sul ring tra la veronese Anna Sbicego e Savannah Cellocco.
Per questa tappa si ringraziano Kombat League, Marco Polo Group, Star Club, Palestra Trim, Coop Superstore, Magelli, Capunao Pietro Military Store, Top Center Porfido, Diamond Luxury Club, Bar Medaglie d'Oro.
di Massimiliano Baggio
4 Maggio 2017