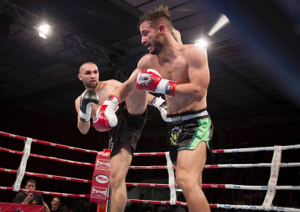 Grande successo di pubblico, quasi mille spettatori, per la tappa veronese di Road to Magnum FC 2, organizzata al Palasport di Monteforte d'Alpone all'interno della Strong Hill Fight Night. Incontri di altissimo livello agonistico con atleti emergenti in lizza per le selezioni del circuito Magnum Fc e alcune conferme molto preziose per il matchmaking futuro dell'organizzazione.
Il match clou della serata, nella categoria dei pesi massimi di K1, ha visto la vittoria per kot al 2° round di Claudiu Istrate, emergente fighter rumeno allenato dal maestro Francesco Persico (Mtbg Goch), sull'esperto Milan Dasic (Team Miko). Dopo una violentissima serie di scambi di boxe e ginocchiate al corpo per l'atleta serbo di stanza a Trento non c'è stato nulla da fare.
Il match più applaudito della serata ha visto opporsi nella cat. -61 kg due giovanissimi campioni del circuito Magnum Fc: Petru Dinca della scuderia di Mario Montrasio (Team The Bull) ha battuto ai punti il siciliano Jonathan Invernino (Team Corifeo). Combinazioni braccia-gambe potentissime che hanno tenuto sul filo del rasoio il risultato e che potevano far concludere il match prima del limite in qualsiasi momento.
Nella categoria -98 kg il peso massimo Edoardo Lorenzetti (Beka Fight Team) ha sconfitto ai punti Ivan Daily (Team The Bull): incontro equilibrato in cui il Lorenzetti ha dimostrato maggiore determinazione e incisività nei colpi.
Il beniamino locale Eugeniu Deouzu (Team Forante) ha infiammato il pubblico disputando 3 round al fulmicotone con il roccioso Luca Migani (Pro Fighting Urbino), cat. -76 kg, vincendo ai punti e dimostrando ancora una volta di essere ormai pronto per i ring internazionali.
Molta attesa invece per vedere all'opera la "nuova creatura" del maestro Alfio Romanut: il fighter Yao Agbetiafa, originario del Togo, era opposto a Ion Botezatu (Team Forgione) nella cat -70kg. Primo round molto combattuto con il thai boxer del Team Forgione più determinato e aggressivo nello striking di boxe. Nel secondo round il match si è capovolto e Agbetiafa con un preciso gancio ha fatto contare due volte Botezatu. Vittoria dunque per kot dell'allievo di Romanut.
Nei pesi -75 kg Andrea Enzo (Pro Fighting Jesolo), allenato dal maestro Agostinetto, ha superato ai punti dopo 3 riprese molto intense Dimitri Angelini (Pro Ring Verona). Sempre nei -75 kg Michele Stella (Black Team Affi), allenato da Manuele Donatello, ha vinto un incontro molto equilibrato contro Riccardo Corradi (Pro Ring Verona). Pari la sfida tra la veronese Anna Sbicego (Pro Ring Verona) e Lucia Ponzetto (Team Jari Ashigaru) nella categoria -53kg. Tra gli juniores la riconferma del talento Omar Forante (Team Forante), dotato di grande personalità e di una notevole scherma pugilistica, vincitore sul coraggioso Daniel Tataru (Team Chango) nella categoria -60kg. Da segnalare infine le vittorie ai punti per Diego Enzo (Pro Fighting Jesolo), cat. -71kg, e di Gianluca Buratti (Black Team Affi), cat. -75kg, rispettivamente su Mattia Fiore (Team Azzali) e Luca Nicoletti (Team Il Branko).
di Massimiliano Baggio
14 Aprile 2017